Posts for tag: gum disease
By Central New Jersey Prosthodontics
May 04, 2020
Your child has had braces for a few months and making good progress with correcting a poor bite (malocclusion), but you've also noticed something else: his gums are becoming red and swollen.
These are symptoms of gingivitis, a periodontal (gum) disease. It's an infection that arises when plaque, a thin film of bacteria and food particles, isn't adequately removed from teeth with daily brushing and flossing. The braces increase the risk for gingivitis.
This is because the hardware — metal or plastic brackets cemented to the teeth and joined together by metal bands — makes it more difficult to reach many areas of the teeth with a brush or floss string. The plaque left behind can trigger an infection that causes inflammation (swelling) and bleeding.
To exacerbate the situation, gums don't always take well to braces and can react by overgrowing. Wearing braces may also coincide with a teenager's surge in hormones that can accelerate the infection. Untreated, gingivitis can develop into advanced stages of disease that may eventually cause tooth loss. The effect is also heightened as we're orthodontically putting stress on teeth to move them.
You can stay ahead of gingivitis through extra diligence with daily hygiene, especially taking a little more time to adequately get to all tooth surfaces with your brush and floss. It may also help to switch to a motorized brush or one designed to work around braces. You can make flossing easier by using special threaders to get around the wires or a water flosser that removes plaque with a pulsating water stream.
And don't forget regular dental visits while wearing braces: we can monitor and treat overgrowth, perform thorough dental cleanings and treat occurrences of gingivitis. In some cases you may need to visit a periodontist, a specialist in gums and supporting teeth structures, for more advanced treatment. And if the disease becomes extensive, the braces may need to be removed temporarily to treat the gums and allow them to heal.
Orthodontic treatment is important for not only creating a new smile but also improving your teeth's function. Keeping a close eye out for gum disease will make sure it doesn't sidetrack your efforts in gaining straighter teeth.
If you would like more information on dental care during orthodontics, please contact us or schedule an appointment for a consultation. You can also learn more about this topic by reading the Dear Doctor magazine article "Gum Swelling During Orthodontics."
By Central New Jersey Prosthodontics
July 14, 2018
On your way to a more attractive smile, you'll have to deal with some inconveniences while wearing braces like avoiding certain foods or habits or dealing with possible embarrassment about your new "metal smile." But there's one consequence of wearing braces that could dramatically affect your dental health: the difficulty they pose for keeping your teeth clean of dental plaque.
Dental plaque is a thin film of bacteria and food particles that if allowed to build up on tooth surfaces could trigger tooth decay or periodontal (gum) disease. Brushing and flossing thoroughly every day helps prevent this buildup.
Unfortunately, metal brackets and wires can get in the way and cause you to miss areas while performing these hygiene tasks. This could cause plaque buildup in those isolated areas that could trigger an infection. And if you (or someone you love) are also a teenager, the natural adolescent surge in hormones can increase your infection risk.
If while wearing braces you notice your gums are reddened, swollen or bleeding when you brush, these are all signs of infection and the body's inflammatory response to it. The longer the infection continues, the weaker the tissues become, causing them to gradually detach from the teeth. Along with bone deterioration (another effect of the disease), this can ultimately lead to tooth loss.
To prevent this from happening, you'll need to be as thorough as possible with daily brushing and flossing. To help make it easier, you can use special tools like an interproximal brush that can maneuver around the braces better than a regular brush. For flossing you can use a floss threader to more readily guide floss between teeth or a water flosser that uses a pressurized stream of water rather than floss thread to remove plaque.
This extra cleaning effort while wearing braces can greatly reduce your disease risk. But you'll still need to keep an eye out for any symptoms like swollen or bleeding gums, and see your dentist as soon as possible. If the symptoms become severe you may need your braces removed until the disease can be brought under control. The health and future vitality of your teeth and gums is what's of primary importance.
If you would like more information on dental care while wearing braces, please contact us or schedule an appointment for a consultation. You can also learn more about this topic by reading the Dear Doctor magazine article "Gum Swelling During Orthodontics."
By Central New Jersey Prosthodontics
July 18, 2017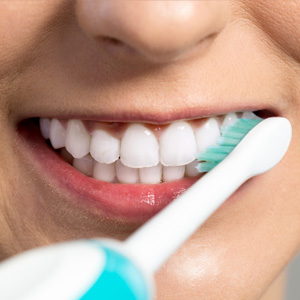 Archeologists can tell us quite a bit about our primitive ancestors. For example, because of their coarse, abrasive diet and a primitive understanding of oral hygiene, their teeth had a rough go of it. They simply wore out faster — a contributing factor, no doubt, to their short life spans of thirty or forty years.
But thanks to improvements in lifestyle, healthcare and diet, people live much longer today. And so do their teeth, thanks to advances in dental care and disease prevention. While teeth still wear to some degree as we age, if we care for them properly with daily oral hygiene and regular dental visits, we can keep that wear to a minimum. Teeth truly can last a lifetime.
Unfortunately, it's still all too common for people to lose their teeth prematurely. The main reason: the two most prevalent dental diseases, tooth decay and periodontal (gum) disease. Tooth decay arises from high concentrations of mouth acid that erode enamel, teeth's irreplaceable protective shell. Gum disease is an infection that damages the bone supporting tissues as it infiltrates deep below the visible gum line.
While they occur by different mechanisms, the two diseases have some commonalities. They both, of course, can lead to tooth loss. And, they're both triggered by oral bacteria found in dental plaque, a thin film of food particles built up on tooth and gum surfaces. Multiplying bacteria feed on plaque and produce acid as a by-product. And certain bacterial strains infect gum tissues.
Both of these diseases can be treated successfully, especially if detected early. But the better approach is to prevent them in the first place. This introduces another commonality — they share the same prevention strategy of daily, comprehensive brushing and flossing for plaque removal, regular dental cleanings and checkups, and a sharp eye for any signs of disease like bleeding gums or tooth pain.
With diligent dental care and close attention to your oral health, you increase your chances of avoiding the full threat of these diseases. And with healthy teeth, you have a better chance of living a long and healthy life.
If you would like more information on minimizing tooth wear, please contact us or schedule an appointment for a consultation. You can also learn more about this topic by reading the Dear Doctor magazine article "How and Why Teeth Wear."